About
This tool is a simple manager for all our smart object. User can select a file or files containing the smart objects, then select one or all of these smart objects and import them into the current 3ds Max scene.
UI & Interface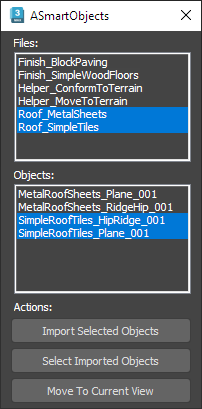 Lists:
Files List – Display all 3ds Max files installed with the tool.
Objects List – Display all smart objects found in the selected 3ds Max files.
Actions:
Import Selected Objects Button – Import selected smart objects in the Objects list.
Select Imported Objects Button – Select all imported smart object with the last import action.
Move To Current View Button – Move all selected objects in the center of the current view-port.
Tips & Shortcuts
Use Double Click – Use double mouse click to quickly import individual objects from the Objects List.
Select Multiple – You can select multiple files or objects by holding Ctrl key on the keyboard.